About Us -
Douglas Anderson #107
Alumni Association, Inc.
In January 2010. the Douglas Anderson #107 Alumni Association, Inc. was formed out of the committee that was appointed by Coach Nathaniel Washington to plan the 50th anniversary of the first graduating class, 1959. The committee was transformed into the executive board of the Douglas Anderson # 107 Alumni Association, Inc.
The initial board included, Samuel Davis, Jr. chairman, Leonard Baker, co-chairman, Ronald Brazer, business manager, Flora Coleman, secretary, Alfredia Lyons, assistant secretary, Garry Merritt, treasurer, Nancy Kennedy (deceased), financial secretary, Hubert Brannon, parliamentarian, and Annie Cohen, chaplin.
We have developed a partnership with the Douglas Anderson School of the Arts # 107 and established a scholarship fund which provides funds for small items like books, school supplies or lunch to students of Douglas Anderson School of the Arts students or students of Douglas Anderson #107 family members.
As a dedicated Alumni Association, we take pride in perserving our legacy. We are dedicated to serving the needs of our alumni members each and every day.
Our Accomplishments to date:
Developed By-laws
Elected Officers
Became official charter alumni association by the state of Florida
Obtained Florida Heritage Marker for D. A. #107
Established three scholarships for college bound seniors
Developed D. A. #107 Website
Obtained street marker erected on White Ave in honor of Coach Nathaniel S. Washington, Sr.
Created "The Fiery Dragons" newsletter for D. A. #107 Alumni Association, Inc.
School History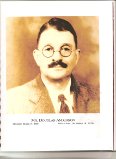 Douglas Anderson School #107 has a rich history. Originally erected in 1922, the school was named The South Jacksonville School and included grades 1-9. At the time it was the only school on the Southside serving African-American students.
Mr. Douglas Anderson, for whom the school was later named, was born on March 7, 1884 in Jacksonville and attended local public schools, completing his education in the carpentry division of Tuskegee Institute. While in Alabama he met and married Miss Ethel Stevens in 1906. They had one daughter, Mary Gwendolyn Anderson, who was born on December 31, 1908. Mr. Douglas Anderson, along with Mr. W. R. Thorpe, played an active role in spearheading the allocation of the present school site and construction of the original school buildings. Douglas Anderson's interest in the school never ceased. He served as PTA president for many years. He was, at the time, best known for his successful and untiring efforts in acquiring free transportation for black students. For many years, he operated the only bus service for black students in Duval County. He was also a respected member and official of the Bethel Baptist Institutional Church and a leader in the Southside area. On December 18, 1936 Douglas Anderson died at the age of 52. Nine years later, in 1945 The South Jacksonville School was renamed Douglas Anderson School.
Between the years of 1955 and 1959, the grade 1-9 school expanded to become a high school, with the Fiery Dragon as its mascot. The class of 1959 became the school's first graduating senior class. Douglas Anderson School closed in 1968 to become the San Diego Campus of Florida Junior College. In 1971, it reopened as Douglas Anderson Seventh Grade Center.
Heritage Marker
DOUGLAS ANDERSON SCHOOL

In 1922, the Duval County Board of Public Instruction opened South Jacksonville School #107; the only public school on the Southside of Jacksonville for African-American children in grades one through nine. Spearheading the building of this school were black community leaders Douglas Anderson (1884-1936) and W.R. Thorpe (1893-1967). Anderson, a graduate of Tuskegee Institute, began the first free school bus transportation service for the school and was president of the Parent-Teachers Association. In 1945, the school board re-named the school the Douglas Anderson School. It became a high school in 1955 and quickly became an educational and cultural center for African-Americans from communities all over southeastern Duval County. Community involvement was the strength of the school. Even though high school enrollment never exceeded 400-500 students, they achieved prominence in academics, athletics, and the arts far beyond their numbers. Douglas Anderson School closed in 1968 as a result of school desegregation. Afterwards, it served as a campus for Florida Junior College, and a 7th grade center. It re-opened in1985 as the Douglas Anderson School of the Arts.
A FLORIDA HERITAGE SITE
SPONSORED BY THE
DOUGLAS ANDERSON ALUMNI ASSOCIATION,
FACULTY, PARENTS AND COMMUNITY FRIENDS, AND THE
FLORIDA DEPARTMENT OF STATE
2010